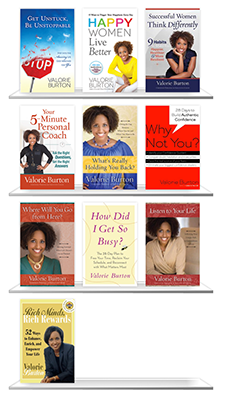 Books
Visit Valorie's library of life-changing books to help you get unstuck and be unstoppable. Most of her books are available in print and e-book formats.
Click here to see all of her books.
---
Audio Books
Some of Valorie's books are also available in audio format.
Click here to review the selection.
---
Monthly Coaching Programs
Join Valorie's Momentum Club! This coaching program is designed as a step-by-step, month-by-month, action-packed journey to take charge of your life and reach the next level in your goals.
Click here for details.
---
Teleclasses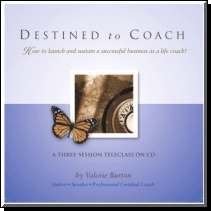 Valorie offers live and recorded teleclasses on a wide variety of topics designed to help you achieve your personal goals and build a stronger coaching practice.
Click here for details.
---
Coach Training
If you want to learn how to coach others, register for Valorie's Coach Training Intensive. You will learn new coaching skills and business insights that can take you to another level in helping you transform lives!
---
Personal Coaching On-Demand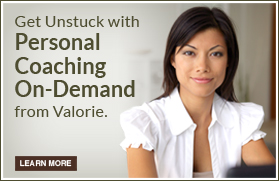 Get expert insights from Valorie on the critical questions you need answered in the midst of your situation anytime, anywhere! Receive support, inspiration, and guidance on-demand whenever you need it.
---